Kenya election official flees country and claims presidential vote will not be free

0
Wednesday October 18, 2017 - 15:13:51 in
Latest News
by Dahir Alasow
"We need the commission to be courageous and speak out," said Akombe.
A senior Kenyan electoral official has resigned and fled the country, in a new blow to the country's presidential vote due to be held in eight days' time.

Roselyn Akombe quit as a commissioner of Kenya's electoral board by issuing a statement from New York saying the rerun of the presidential election scheduled for 26 October cannot be free and fair.
"I do not want to be party to such a mockery to electoral integrity,"Akombe said in a statement.
The flight of such a high-profile electoral official underlines the growing crisis in the eastAfricastate, long seen as a bastion of relative political stability in a volatile region.
The US-educated former United Nations official told the BBC she had fled fromKenyato New York after receiving numerous threats but did not identify who was threatening her.
"This election as planned cannot meet the basic expectations of a credible election," said Akombe, who was one of seven election board commissioners.
"Not when the staff are getting last-minute instructions on changes in technology and electronic transmission of results. Not when in parts of country, the training of presiding officers is being rushed for fear of attacks from protesters," she said.
"We need the commission to be courageous and speak out," said Akombe.
The incumbent president, Uhuru Kenyatta, won the poll in August, beating veteran opposition politician Raila Odinga by nine percentage points.
But Odinga mounted a legal challenge claiming the electoral commission's computer system had been tampered with to produce false results. The supreme court annulled the elections, citing irregularities and ordered a fresh election, which will be held next week.
Odinga has withdrawn from the fresh poll, saying the electoral commission has not made sufficient changes, such as new members or new procedures, to guarantee a fair election.
Akombe's resignation will further undermine confidence in the coming polls, which face a number of tough logistic challenges.
The electoral commission tweeted a short statement saying it regretted Akombe's resignation.
Odinga on Tuesday suspended protests intended to press for reforms to Kenya's electoral commission, citing the killings of his supporters by police.
The protests, concentrated in the western town of Kisumu but with smaller crowds in Nairobi, the capital, and coastal Mombasa, have seen opposition supporters setting tyres alight, lobbing stones at police and in some cases looting shops and destroying property.
On Friday two protesters were shot dead by police in Odinga's rural home of Bondo, in the west of the country.
On Monday an 18-year-old man was shot dead during a protest in Kisumu. His mother insisted he was not taking part and had gone to buy ice cream.
"In honour of the innocent victims of the state, our protests will stay suspended. On Friday, we will mark the memory of these victims as heroes of the struggle for electoral justice," said Odinga.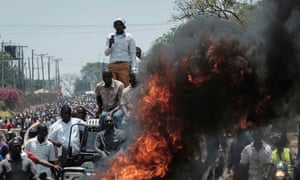 Local media have reported that training sessions for election officials have been disrupted by crowds of young men.
In her statement Akombe said: "It broke my heart in the last few days to listen to my staff in the field, majority of whom truly want to do the right thing, express to me their safety and security concerns."
The top information technology official at the Kenyan electoral commission was murdered shortly before the August polls. His death significantly undermined the confidence of many Kenyans in the vote.
Amnesty International and Human Rights Watch reported that 67 opposition supporters have been killed in protests since the 11 August announcement that Kenyatta had been re-elected in the first poll.
Kenya has a history of political violence. More than 1,200 people were killed after a disputed presidential election in December 2007.
Associated Press and Reuters contributed to this report
No Comments yet...
Leave a comment