Somalia's minister of information contradicts details of internal security ministry over 14 October attack

0
Saturday November 25, 2017 - 19:03:48 in
Latest News
by Super Admin
Waagacusub.com - Somalia's internal security ministry has provided more information about the attack on 14 October.
According to the ministry, 6 people have been identified so far to have been involved or directly carried out the attack.
The ministry has released their details with names and photos of some of them.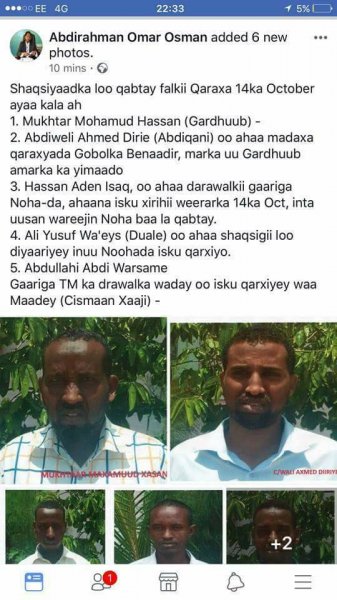 The irony here is that Information minister, Eng Abdirahman Yarisow has posted photos of innocent people with the details of the attackers on his Facebook. They were arrested later on.
According to the ministry, the two main culprits have not been provided their photos. The ministry also confirmed the individuals arrested when the minister identified them are not the real ones.
LINK OF SONNA.SO ,SOMALI GOVERNMENT NEWS AGENCY
We have here screenshot of minister Yarisow's Facebook account, and news item from state news agency.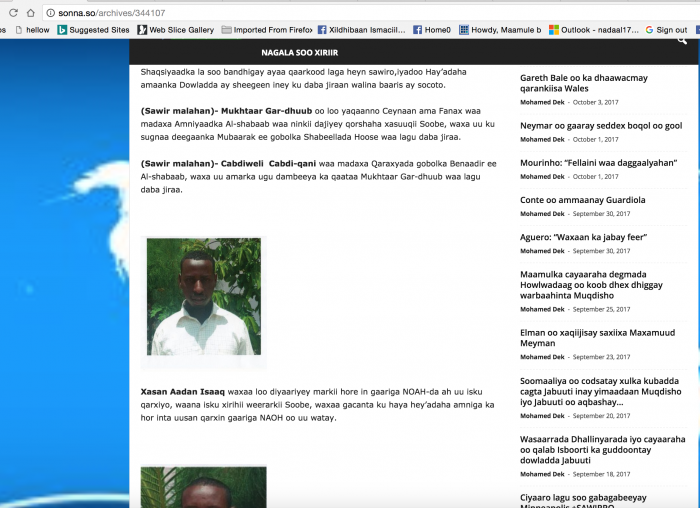 No Comments yet...
Leave a comment